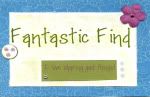 Today my friend Chels from Fantastic Find is sharing her 5 books with us!
We read snuggled on the couch as often as we can at our house! My daughter has graduated to chapter books but still enjoys picture books. She'll read to her little brother whenever I need her to (most of the time).
This picture is from a few years ago and the book they're looking at is a toddler board book from Usborne,
Panda in the Park
. We also love
Bunny on the Beach
and
Mouse on the Moon
.
I could not narrow my favorites to 5 but I did try!!!
Big Wolf and Little Wolf: The Little Leaf that Wouldn't Fall
by Nadine Brun-Cosme
...a great friendship story
The Great Paper Caper
by Oliver Jeffers
...a little mystery read
Augustine
by Mélanie Watt
...a sweet story
Way Up in the Arctic
by Jennifer Ward
...sing as you read and have fun finding the hidden numbers
Down to the Sea with Mr. Magee
by Chris Van Dusen
...rhyming text and great illustrations
Dear Deer: A Book of Homophones
by Gene Barretta
...a book that teaches and is still fun
........................................................................................
Thanks for sharing, Chels! I have fallen in love with every Oliver Jeffers book I've ever read, but I've not yet read this one! I'm adding Augustine to my boy's name book list and am completely intrigued by Dear Deer!
If you haven't visited Chels'
blog
, head on over! She shares a ton of great information and interesting finds! I am always finding something new and fun over there. Plus, she's a great friend and someone you just want to get to know--trust me! She always has encouraging comments and emails that brighten my day. Thanks again for the guest post, Chels!