Jenn from Delicious Ambiguity shares her 5 Books with us today!
1.
The book that makes me cry every time is
LOVE YOU FOREVER
by Robert Munsch
2.
My favorite sing-along book is
5 LITTLE MONKEYS JUMPING ON THE BED
by Eileen Christelow
3.
The book whose pages are so lovely I want to rip them out and frame them is
THE VERY HUNGRY CATERPILLAR
by Eric Carle. Actually, I could read this book over and over again and never get tired of it!
4.
My (or my child's) favorite book that we own is
THE WHEELS ON THE BUS
by Michelle Swan
5.
The best I Love You book is
I LOVE YOU THROUGH AND THROUGH
by Bernadette Rossetti Shustak and Caroline Jay Church
...............
Thanks Jenn! I love your picks! The only one I haven't read is that version of Wheels on the Bus--I'm going to put it on my list of books to look for!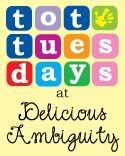 If you are not familiar with
Tot Tuesdays at Delicious Ambiguity
, it's a fun weekly link-up party where you can link all your posts relating to all things toddlers. It's a great source of inspiration for me.
Head over and check out all the great ideas!