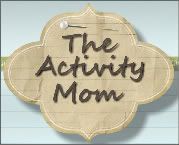 The always-inspiring Nicole of
Activity Mom
shares her 5 books today:
1) At first I didn't like Silly Sally
by Audrey Wood like everyone said I would, but after reading it several times I fell in love with its sing songy and predictable text.
2) The book I never want to read again, but my child makes me is Fox in Socks
by Dr. Seuss. It's a big tongue twister that I could do without!
3) A book I didn't think would be a hit with toddlers, but seems to be loved by all, including my son is Doggies
by Sandra Boynton.
4) One of our favorite ABC books is Alphabet Mystery
by Audrey Wood.
5) A series of books I remember my parents reading to me is the Little Critter series by Mercer Mayer.(Just Me and My Dad
, Just Me and My Mom
, Grandpa, Grandma, and Me
, etc.)
........
Thank you, Nicole! I love your list! I've never read Alphabet Mystery, but it looks like one we would enjoy. As for Fox in Sox, I'm right there with you! I think I have actually hidden it a few times! I have to laugh thinking about the time Juliet chose that book for my Swiss sister-in-law to read to her--let's just say it's even more miserable to read aloud when English is your 3rd language!
If you aren't familiar with Nicole's blog Activity Mom, head over and check it out! You will find so many great ideas for teaching and interacting with your children. I am always inspired everytime I read her blog and I especially love how she makes all her ideas affordable and accessible. Her activities usually involve things you can find laying around your house like this fun bottle top fish activity: