I've been saving these metal bottle caps for a long time now with the hopes of making a memory game out of them.
Juliet is just now showing an interest in playing memory, but she doesn't have the patience to play a full-sized game with a lot of cards.
I finally decided it was time to attack the project and make it into a Father's Day project from Juliet. I used these round stickers to make the letters spell "I love daddy" (two sets) and then let Juliet stick them to the insides of the bottle caps.
She LOVED sticking on the stickers and asked for more letters after we were done.
I had a little gift bag in our junk drawer that I used to hold the caps. Now, Juliet and Ben have a fun little game they can play together!
[Things to remember if you want to do this project:
* all the bottle caps need to be the same on the outside
* if you have repeated letters in your phrase, make sure the color of the sticker differentiate them--for example, I had 3 d's, so I used three different colored stickers for them. ]
This fun project was a way I made Memory work for me--for more "works for me" tips, head over to: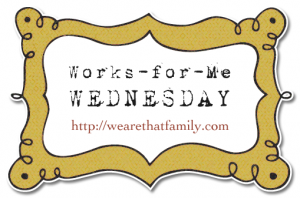 And for more crafty goodness: