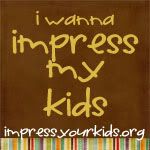 Yesterday was a big day for me, I was featured at
Playing by the Book
AND
Impress Your Kids
! Amanda (also from
Oh Amanda
) is a real-life friend of mine with major blogging skills. I love both of her blogs and was so honored that she asked me to guest post on Impress Your Kids.
Her daughter Lydia is one of Juliet's most favorite friends in the world and they are also dance buddies. Amanda and I both share a love of books and discuss them often. She had mentioned having me write this post a few weeks ago and we have been emailing each other back and forth over the holiday weekend trying to get it set...
I am a big fan of Impress Your Kids--she and Leigh (her friend who co-writes the blog with her) share the most creative ideas for "impressive" parenting. I am constantly challenged to up my game when it comes to sharing Bible verses and spiritual truths with Juliet.
Here are a few of my favorite posts of theirs: (just to get you started...)
fyi@iyk
(this is where they list their favorite resources and craft ideas found on the web that week--I am always finding great new sites this way.)
Thank you again, Amanda for allowing me to join your blog for a day!