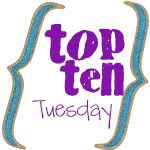 So, I have been wanting to compile some top ten lists for awhile and just recently discovered the perfect motivation:
Top Ten Tuesday
at
ohamanda.com
! 
I have a special fondness for bedtime books--here are my top ten favorites: 
(You can click on the titles to read my extended reviews and see pictures of the covers!)
* Probably my favorite children's book ever. It's so beautiful and amazing--I really cannot say enough good things about it. I would read this even if I didn't have a child to read with. 
*Another beautiful book--it makes my literature-loving heart leap every time we read it. 
* I love this one for babies and toddlers. It's soothing and sweet and your child will memorize it in no time--nothing sweeter than hearing your baby "read" to you!
*Juliet is in love with Madeline--she cannot get enough of her. We read this one all the time and she likes to tell me that her bed is "just like Madeline's." 
*Hondo and Fabian are the cutest dog and cat pair ever. We love reading about their adventures and then watching them tuck in and go to sleep for the night. 
*You've heard the song over and over again, but this book makes it fresh and fun. Sparkly stars make this one especially fun for babies and toddlers to interact with. Juliet loved scratching the stars when she was a baby. 
*A classic. Needs no explanation. A beautiful and comforting goodnight routine that every child should experience. 
*I love lullabies, but found I didn't know that many when Juliet was born. This book has all the classics, plus a few I had never heard of before--it has all the words and music, plus beautiful artwork to go with the songs. We sing from this all the time. 
*Guaranteed to make your toddler laugh out-loud every time! Hilarious and fun. 
*Rollicking rhyme, gorgeous illustrations--this book has it all. If you've never read a Keats book, this is a great one to start with. He's simply amazing. 
I'd love to hear what your bedtime favorites are! Leave a comment and let me know!